Summary:If you're looking for a new beverage or water cap mould, you've come to the right place. There are a number of things to...
If you're looking for a new beverage or water cap mould, you've come to the right place. There are a number of things to consider when selecting a mould. Read on to learn about the advantages and disadvantages of each and find out which model is right for your needs. Listed below are a few tips for selecting the right mould. Once you've chosen the mould, you can begin the process of creating delicious beverages.
5 GALLON
The best way to select a 5 GALLON Cap mould is to contact a mold manufacturer that specializes in this type of product. These companies will have an excellent reputation for providing superior moulding solutions and service for the manufacture of 5 gallon water bottles. You should consider choosing a manufacturer that has an excellent reputation for providing superior cap moulds, and is committed to customer satisfaction. Read on to discover the benefits of choosing a mold manufacturer that is specialized in this type of product.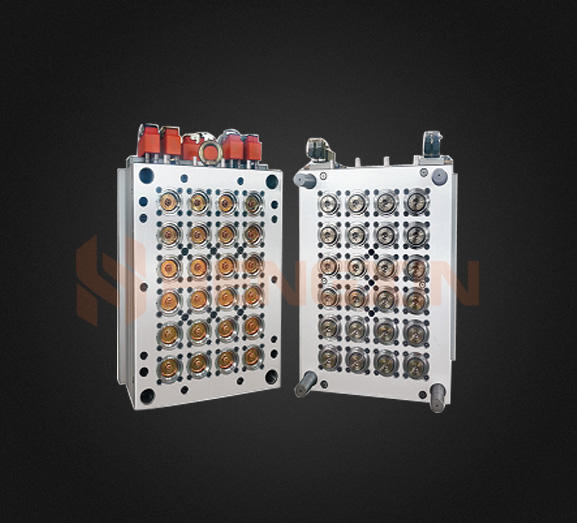 Pet-mould high quality 5 GALLON Cap mould is made of 2316 steel with an 24 cavity design. This type of mould is fully automatic, features a cold runner system, and a three-plate mold structure. In addition, it features an excellent life cycle. A good mould is designed to last a long time and can meet the demands of your business. The above benefits are just a few of the advantages of choosing a high quality mould from a mould manufacturer.
The plastic raw material used in the 5G cap mould is LLDPE, which is highly heat-resistant and has good fluidity. The steel used in the core and cavity of the mould is S136, which has a hardness of 48-52. This can increase the mold's life and increase its productivity. For better product quality, a 5G cap mould is available with 12 or 16 cavities. Each cavity is equipped with a cooling system independent of the others. The steel cavity is polished finely to reduce the chances of it corroding.
24 cavity
The Cap mould with 24 cavity is designed to produce caps for water bottles. It features an advanced structure that provides an optimal cooling effect during the injection process. The mould's integrated hot runner system ensures consistent melt flow throughout all cavities. The mould's optimized cooling system minimizes cycle time while improving quality. In addition, it features a high-speed open/close system. This mould is perfect for a wide variety of applications.
The mould die is made of high-quality Swedish special mould steel, while the cavity and screw neck are constructed of international standard nitrided steel. Both materials ensure a durable, high-quality plastic product. It also features an advanced hot-runner design. This design ensures an even heating temperature. Its design enables it to produce caps of varying size. You'll be amazed by its versatility and quality.
water cap mould
A Water cap mould is made of high-quality steel and is mainly used to produce bottle caps for water. The machine uses a hot-runner production mode to produce water bottle caps. This mould is more effective in saving material and labor than conventional moulds. It has many advantages. Here are some advantages of Water cap mould. Its high-quality steel construction and 32-cavity design make it suitable for the mass production of water bottle caps.
First, it is highly recommended to select a mould that can produce up to 5 gallon water bottles. This mold is easy to use. A five-gallon mould should be suitable for no-stop production and high-volume production. The quality and precision of the finished product must be high to achieve high production volumes. A quality tooling system is an important factor in producing a high-quality water cap mould. The material should be high-quality and able to withstand high-speed operation.
The quality of the bottle caps made using a water cap mould is influenced by the dimensional stability of the mould. The mould's dimensional stability is determined by the materials and additives used in its manufacture. Proper maintenance of the mould is essential to ensure the best performance of plastic bottle caps. You can avoid these problems by following the steps outlined below. Then, keep your mould well-lubricated. You should check the mould's dimensional stability regularly.
An elite water bottle cap mould should have a good technical team. The company should have a long-standing history of manufacturing quality products. Look for customer feedbacks and reviews to determine its suitability for your bottle cap needs. Smart technical support is vital for ensuring smooth moulding. Furthermore, the mould maker should have the necessary machinery and equipment to ensure a perfect product. If the manufacturer cannot guarantee quality and precision, it's probably not worth the investment.
Injection moulding is another method. In this process, soft thermoplastics are injected into a steel mould cavity and then reshaped into a bottle cap. Unlike injection moulding, continuous compression moulding requires less pressure and lower temperatures. It is also easier to use due to the nature of resins. Once the polymer is placed into the cavity, the mould is closed. Then the thermoplastic polymers are heated and pushed into the mould cavity. This process repeats in a very efficient way, producing thousands of bottle caps every day.
Beverage cap mould
A Beverage cap mould is a tool that is used to produce a drink cap. It is a custom mould that is used for creating drink caps. A beverage cap mould has a life expectancy of 500 000 shots. Depending on the design, it can be used for making a range of products, including shampoo, mineral water, and different types of oil. These moulds are also customizable, allowing for the production of a wide range of different products.
Depending on the design of the bottle cap mould, it can produce several different colors of caps. However, there are many factors to consider before selecting a mould. The volume and weight of the closure will depend on the material being used and the temperature of the mould. In general, green closures will be larger in volume than orange caps. Another factor that determines the size and weight of a bottle cap is the closure's weight. Although weight is proportional to volume, it is not linear and depends on temperature and the weight of the cap.
The physical state of the bottle's contents plays a vital role in the design of the beverage cap mould. For example, when the cap is designed to contain liquid or powder, it must contain different plastics than a liquid. For example, high-density polyethylene, a material produced by polymerisation of ethene, keeps the internal bondings of the cap compact and reduces the weight of the cap. Low-density polyethylene (LDPE), on the other hand, provides good flexibility and protects the caps from mechanical stress.
Another important aspect of a beverage cap mould is its capacity to change shape with the packaging material. When it comes to the structure of the cap, the changes that are made will affect its strength and quality. The overall strength and use ratio will also increase. This means that a beverage cap mould will be more versatile than ever. And the process of moulding is easy! It's also a fun process! If you're looking for a Beverage cap mould, Alleycho can meet your needs.