Summary:A hot runner is a system of heated parts that direct molten plastic from a machine nozzle into the cavities of a mould t...
A hot runner is a system of heated parts that direct molten plastic from a machine nozzle into the cavities of a mould tool. The opposite of a hot runner is a cold runner. Cold runners are unheated physical channels that direct molten plastic into mold tool cavities. A hot runner, on the other hand, is heated. If you're interested in purchasing a hot runner mould, read this article.
Preform Hot Runner Mould
If you're a manufacturer that relies on hot runner moulding to create parts in a short amount of time, there are some important things you should know before beginning your repair work. Proper maintenance of hot runner systems requires knowledge of their functions and the mechanics involved. If you don't understand how these systems work, you may face problems with mechanics, safety, and effective processing. Listed below are some of the most important steps to follow when performing repairs on your hot runner moulding system.
A hot runner moulding system consists of two heated plates that move melted rubber through a manifold and nozzle system. The melt flows through the nozzles to fill the cavities in the part. The design of the hot runner system eliminates the need for a sprue and runner system, which reduces cycle times and waste plastic. Additionally, the runner system is easy to access, reducing the trimming time of the final product.
Until recently, cold runner molds were the norm. Before the emergence of hot runner technology, the process of molding was based on cold runners. The challenge of conveying resin without affecting its thermal properties or flow was one of the main drawbacks of cold runner molds. As resin types increased, so did the complexity of mold designs. Consequently, it became more challenging to manage the molding process and to improve the end result.
Using a hot runner mold can increase production efficiency. A hot runner mold allows plastic to flow smoothly through the mold cavities. The hot runner is fed by a pump in a barrel. The heated manifold allows the plastic to remain at a temperature above its melting point. As the runner moves, it warms the plastic, keeping it molten and at the right temperature for injection. It is also beneficial for cost-efficiency in plastic molding.
The performance of a hot runner mould is dependent on the knowledge of critical areas. A good understanding of electrical principles, element resistance, and continuity are essential. Knowledge of bench techniques, coordination, and smaller tolerances are all necessary to properly perform hot runner mould manufacturing. There are many ways to make sure that a hot runner mould is working properly. If you don't have the right knowledge, you could risk wasting up to 30% of your torque force on friction.
Jar Hot Runner Mould
Hot runner moulds are used to produce plastic products. This type of mould is widely used in the process of manufacturing many products. It can process any type of plastic, such as polyimide, glass, and ceramic. After assembling the mold, it must be heated before the injection. The heated runner prevents the plastic from freezing and causing it to become stiff and hard. This type of mould is also highly versatile and suitable for various applications.
A hot runner mold does not require the use of cold runner and a hot runner system is much cheaper than a cold - if the production is small enough, it may not be economical for mass production. This process also requires a high level of precision in machining. However, this advantage is worth considering when the price is high, especially when the product is being produced for a long time. A hot runner mould is a valuable investment, so don't let this technology go to waste!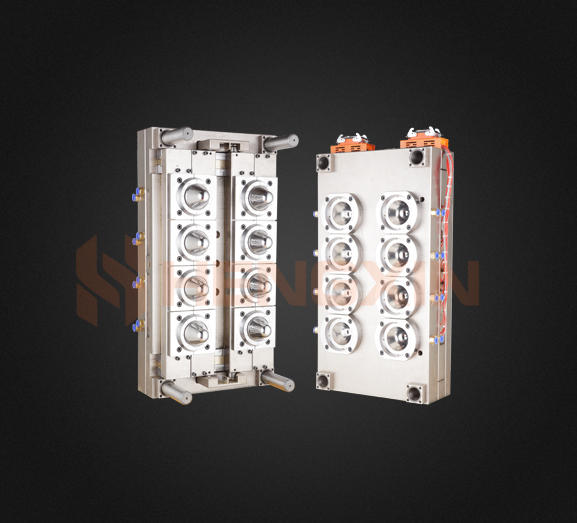 A high quality steel plate is used to build this
8-cavity jar preform mold
. Its durable construction and reasonable design will guarantee long-term use. It is easy to install and maintain, and the quality of the finished molded product is guaranteed. The hot runner of the mold is made of a high-quality, preheated die steel from a Swedish factory. The mouth of the jar mold is threaded in accordance with international standards, and the runner is made from a material called P20 with a HRC of 3840.
A jar hot runner mould is highly reliable and easy to use. It is composed of a number of components that make it a high-quality product. These components include the mold cavity, screw neck, and all mould bases. Furthermore, it features a thermally-controlled hot-runner system with an extra thermocouple. Its temperature sensors can tell if the mold is too hot or if there is a blockage of the runner.
A hot runner mould is a versatile tool for a wide variety of plastic injection molding applications. Its heated system allows it to process a variety of plastic injection molding materials. Hot runner moulds can produce thin-walled parts in just five seconds. There are several advantages to this type of mould. It is flexible and easy to use, and can be used for a wide range of applications. These are just a few of the many advantages.
5-Gallon Hot Runner Mould
Designed specifically for the forming of plastic products, the 5-Gallon Hot Runner Moulder is the ideal tool for a variety of industries. This mould features an advanced cavity self-locking technique for consistent concentricity. It is constructed of mirror corrosion-resistant plastic mold steel imported from Germany and Sweden. The mould's innovative hot runner system guarantees uniform heating and high-quality preforms. Designed to meet the needs of many industries, this mould features a lifetime warranty.
The hot runner system features a patented design that provides many advantages over conventional cold runner injection moulds. These moulds are easy to operate and can help you save money on materials and labor. The hot runner system features separate melt channels in the mould's externally heated manifolds. The hot runner system is highly efficient because plastic is conveyed perpendicular to the mold plate.
A high-quality steel is used to produce the bottle cap injection mold. Different mold steels offer different properties and are used for different parts. A high-precision coordinate boring machine and a high-pressure EDM forming machine ensure quality finished products. CNC equipment and a high-precision coordinate boring machine help ensure fast processing. A high-precision machining center is also available to ensure precision and quality.
Pet Mould Hot Runner Mould
PET-Series Hot Runner Moulds incorporate new technologies and features aimed at improving part quality and productivity while reducing costs. These hot runner systems are compatible with many industry-standard layouts and molds, and fit most machine platforms. This series includes a number of safety features, including MasterSHIELD Technology for enhanced leak protection. If you're looking for a quality hot runner mould for pets, the PET-Series has you covered.
PET is an excellent fluidity material, but its high temperature requires specific considerations when molding. Mold clearance and deformation must be controlled carefully, as can thermal expansion margin. Preliminary drying of pellet molding material pellets is also necessary, as PET reacts with water and undergoes hydrolysis. Therefore, proper hot runner mould design and engineering are critical factors in ensuring high-quality plastic products. Hengxin mould has designed a mold with 96 cavities to meet the needs of its customers.