Summary:There are several types of Preform Mould available today. Choosing the best one depends on the type of product you're pr...
There are several types of Preform Mould available today. Choosing the best one depends on the type of product you're producing. These include 48, 32, and 96-cavity. If you're not sure what type of mold you need, read on for some important tips. 
96 Cavity
The
Preform 96 Cavity injection mould
can produce compacted components with a capacity of four to 96 cavities. The mould's hot-runner uses Italian technology and famous brand components. The main material used in the mould is imported S136 stainless steel, which is heated to the required temperature to ensure long life and reliability. In addition, the mould's optimized cooling layout ensures rapid heat exchange, supports fast cycle times, and lowers energy consumption.
The main material used for the Preform 96 Cavity mould is steel. This mould is manufactured using high-quality steels, including those from Japan. The cavity is made from S136 steel and is vacuum quenched. It is also available with hot runner and cold runner systems. The performance and quality of Preform 96 Cavity moulds depend on their design. To ensure quality, this mould uses a valve gated design based on foreign advanced techniques.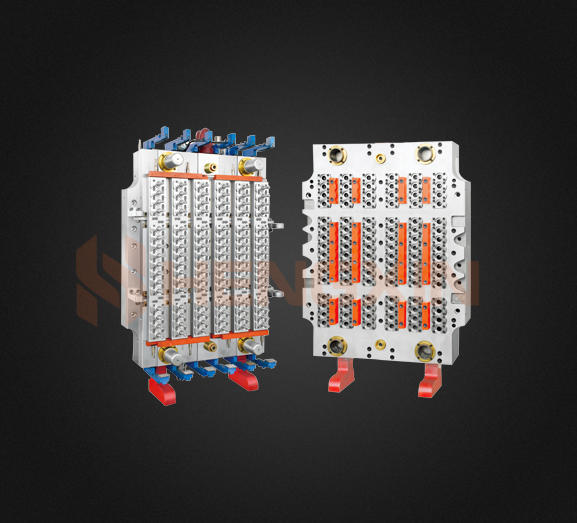 72 Cavity
Designed for beverage packaging, the Preform 72 Cavity PET mould features a high production efficiency and cost-effectiveness. It is compatible with HUSKY preform injection shaping systems and other injection machines. Generally used for mineral water and beverage packaging, the Preform 72 Cavity mould is highly efficient and low-maintenance. As a professional manufacturer of plastic moulds, HENGXIN MOULD also offers other moulds such as a flip top cap mould, rotary blow mould, and six cavity blow mould for automatic linear blowing machine.
Designed by engineers, the Preform 72 Cavity mould combines high precision with long-term durability. Its weight difference is less than 0.3g, enabling it to produce up to 2-5 molds per minute. It can produce up to three million preforms. The Preform 72 Cavity mould also includes an electric control system. The Preform 72 Cavity mould features a world-leading dipole taper localization technique. The die cavity and core of the mould are constructed of special Swedish mold steel, while the screw neck is made of imported nitrided steel.
48 Cavity
The PET Preform 48 Cavity mould is specifically designed for preforms with a 30/25 neck. This mould has a balanced hot runner system and valve gate. The mould weights 20 grams and is compatible with most PET screw-type injection molding machines. The mould can also be used with an Indian preform molding system. It is available in two different cavity sizes and can be used with a PET line or a general PET injection molding machine.
The preform 48 cavity mould from SINO PK has a hot runner and has a minimum of four cavities. It adopts the latest technology and famous brand components from Italy. Its main material is S136 stainless steel and is heated to ensure long-term usage. The mould's advanced PID temperature controller and high-precision CNC make the mold a reliable and efficient production tool. In addition, the mould's design enables the production of a wide variety of types of PET bottle preforms.
32 Cavity
The Preform 32 Cavity mould is designed to produce a 30/25 neck preform. It features a balanced hot runner system and valve gate for high precision and durability. The cycle time is 20 seconds, and it is suitable for various kinds of bottled drinks. The mould is also available in four different cavity sizes, and has various advanced features. To make the most of the product, you can use the preform mold with your own custom-designed bottled drinks, and it's suitable for both plastic and non-plastic products.
The quality control process includes three steps: material checking, design and standard spare parts checking, and size check after machining. The process is carried out to ensure the highest quality products. If you'd like to learn more about mould quality control, read on. Demark offers free technical support and advice on the most appropriate mould for your production. Our team of engineers will assist you in making the most of your Preform 32 Cavity mould.
24 Cavity
The Preform 24 Cavity mould is a multi-cavity injection mould, which consists of more than one cavity of the same part. Such moulds can be used for producing more parts per production cycle. They have a short lead time per batch and a higher yield rate in higher volume runs. Furthermore, they can produce more parts in a single shot guarantee. So, they are a perfect solution for high-volume production.
16 Cavity
This PET preform mould has 16 cavities and is made of S136, H13, and P20 steel with vacuum quench treatment and a HRC of 43-52. The PET materials are fed into the mould in a straight line into the nozzle tip. The weight of this mould is 56 grams. Several advantages of this mould are as follows:
The double cone positioning principle ensures high precision in manufacturing. The mould features an advanced design with a bearing slide type opening/closing pulling plate. The hot runner valve gate system is the perfect use of this mould, which helps reduce the cost of labor. The mould is also easy to disassemble and has a high level of precision. Lastly, this mould features a high degree of integration. Once assembled, you'll have a high-quality preform that will last for years.
12 Cavity
The design of the Preform Mould 12 Cavity is based on the advantages of stacking moulds. It provides adequate support to stack components while reducing the spares inventory. The design of the cooling channels on the plates is optimized for fast heat exchange and short cycle time. Moreover, the design reduces energy consumption. Here, we will discuss some of its benefits. These features will ensure the smooth and stable operation of the machine.
This PET Preform Mould is designed with advanced mould design technology and is available in various sizes such as 1-8 cavity, 12 cavity, 16 cavity, 24 cavity, 48 cavity, 56-cavity, 96-cavity. The neck finish can be PCO, ALSK, ROPP, or jar neck. The base of the mould is made of stainless steel, P20 with HRC 3840.
The Preform Mould has a modular concept, which enables you to interchange mold components. The mold features 8 cavities, with each cavity being independently controlled. The PET materials enter the nozzle tip directly, improving cycle time. The Preform Mould has a cooling system in its neck, core, and runner. The controller allows you to regulate the temperature of each cavity individually. The runner and sprue can be individually heated or set to a single point temperature.
8 Cavity
PET preform mould is a popular choice for manufacturers of plastic packaging. It can mould up to 96 cavities and is suitable for both standard neck finishes and custom-made materials. The mould's cam roller design helps reduce the maintenance burden on the operator. It features a valve-gate unit with a balanced hot runner system and uses Germany 2316 material. The runner system also helps reduce the overall mold cost and time.
Various cavity models are available in the market. The multi-cavity moulds are available in different sizes, including 1-8 cavity, 12 cavity, 16 cavity, twenty-four cavity, forty-eight-cavity, sixteen-cavity, twenty-four-cavity, forty-eight-cavity and eight-chambered mold. The mould has a self-lubricating copper alloy neck, ensuring high precision, low friction and less defect.